Upgrading Artisan
Download and install the latest version of Artisan.
The installer, on a MAC or PC, will first remove your prior version but this won't remove your prior settings if you have them. You can also downgrade to a previous version by just uninstalling the current version and re-installing the old version without losing any settings.
To ensure you have no issues when modifying settings or upgrading, please save your stable settings first (Help » Save Settings).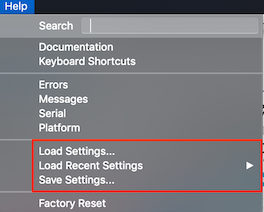 A note on upgrading to 2.0 from v1.x:
Artisan 2 stores the application settings in a new location. On the initial start up of Artisan 2 the old settings are imported. From that moment on, changes to settings done with Artisan 2 will not be synchronized automatically back to previous versions. However, synchronizing settings via save/load settings (under menu Help) manually works across all versions. PLEASE EXPORT a working SETTINGS FILE and keep it saved to be able to track back in case changes do not work out as expected when upgrading.
More complete instructions on the Installation page.